Pehli Baarish We Are The First Rain of Music and Love
A BLOG BY DYUTI BASU
Our Inclusive Music Band "Pehli Baarish", which was launched on the 7th of August, 2014, along with our disabled and non-disabled music maker friends, is our way of sharing the gift of music with audiences in an hour of refreshing entertainment.
The band performs different genres of music, as per the listening preferences of specific audiences, with professionally hired sound, once a month at unconventional venues like old age homes, hospitals, rehabilitation centres cancer patients in hospitals,  shelter homes, orphanages, NGOs and so on. ALL THIS IS AT NO COST TO THE RECIPIENT ORGANISATION. 
Thus far, there have been five "pourings" of "Pehli Baarish" in August, September, October, November and December.
We had a special pouring of Pehli Baarish on the 6th of December, 2014, at Oberoi Mall, Goregaon East, on the occasion of World Disability Day, where we were joined by our blind musician friends Sachin, Dhaval, Sapna, Buddha, Mahesh and Ashok along with our non-disabled friends, Rumki, Shaoli and Dyuti. We also had Helen, Sunny and Amruta volunteering for the event.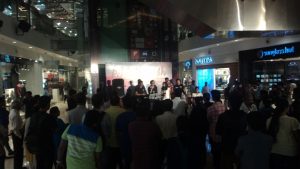 A large audience gathered to watch the performance as our band stepped up onto a specially made stage in the atrium and were soon swept up in the magic of music and the unadulterated joy it brings, singing and dancing along as the band performed one popular Bollywood number after another.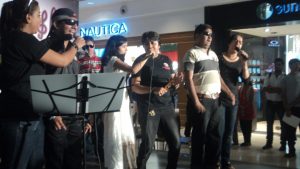 There were some solo performances by Ashok, Sapna and Ritika, some duets, some chorus numbers with Shaoli, Dyuti and Rumki joining in. Our blind compere, Buddha, had everyone laughing and clapping at his jokes and awed with his Shayari.  As always, Pehli Baarish left behind a rainbow of smiles and moments of shared joy.
Please connect with us if you want our band to perform for your NGO.
We hope that "PEHLI BARISH" will continue to be the first shower for our audiences, bringing with it a fragrance of drenched land that no perfume in the world can match!
We hope it also brings the lush of happiness, gusts of smiles… and leaves behind with all, the colours of a rainbow.
To know more about "Pehli Baarish",  click here.
If you wish to view more photographs of the performances of "Pehli Baarish" click here.