Join Us For Our World Disability Day 2014 Initiatives
World Disability Day or International Day of Persons with Disabilities is an International observance on the 3rd of every December promoted by the United Nations since 1992 to bring the NEEDS, CONCERNS AND RIGHTS of Persons with Disabilities into the limelight.
For the Trinayani team, this is a day of opportunity to make disability-related issues more mainstream, initiate conversations, organize events to reach public consciousness, eventually make a difference in lives of people with disabilities by spreading awareness about disabilities.
This year, we planned a cross-section of interesting events for all sections of urban society, both in Mumbai and Kolkata, to showcase issues about disability and celebrate oneness.
We designed a 22-minute E-Module, replete with films, titled DISABILITY DECONSTRUCTED which gives a peek into the various facets of the lives of persons with disabilities. This module is available with us and can be sought at request.
The first screening of our E-Module was held for a select audience at The Playce, Mulund West on 2nd December at 6.30 pm. The screening was followed by a highly interactive session with the participating audience wherein the topics ranged from how the film had affected those present to facets of Disability Etiquette and debates on the Language of Disability.
We were very happy for all the help from Team ProjectHeena, an online platform for volunteering and Corporate CSR Engagement, who facilitated the event.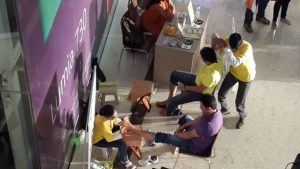 As in the previous years, this year too we had our blind therapists, Shambhaji and Lata from SPARSH FOOT SPA  present at Oberoi Mall, Goregaon East, from the 1st to the 7th of December from 12:00 to 8:00 pm. They were accompanied by Helen, Kanchan, Kalpana and Amruta. 
The holiday season had begun, many people came to the mall to buy presents and stopped by for a massage. Friends, couples, mothers and their twelve-year-old daughters,  daughters and their elderly fathers, all enjoyed foot massages or head-back-and-shoulder massages. More than 80 people came in for a massage during this time.
For music lovers, we had a special one hour pouring of  our Inclusive Music Band, "Pehli Baarish" with our blind musician friends from NODA (National Organisation for Disabled Artists, India) at Oberoi Mall at  5:30 pm on the 6th of December.
Our band stepped onto a  specially designed stage in the Atrium and created magic with their music which brought people crowding around, bending over balconies, singing and dancing along.
Popular Hindi songs were sung, some as solo performances by Ashok, Sapna and Ritika, some as duets, some as a chorus with Shaoli, Dyuti and Rumki joining in. Our blind compere, Buddha, had everyone laughing and clapping at his jokes and awed with his Shayari. 
As always, Pehli Baarish left behind a rainbow of smiles and moments of shared joy.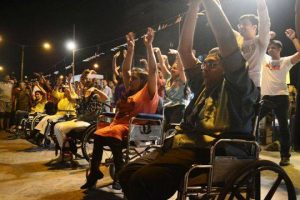 Trinayani's INCLUSIVE FLASH MOB facilitated by Team Project Heena performed on the 30th of November at the Celebrate Bandra Festival and the 7th of December at Oberoi Mall, Goregaon East. 
Our Disabled and Non-Disabled dancers came in with a bang and left an impression of grace, rhythm and fun.
At Bandra, a program was already taking place at Carter road when the flash mob began their performance on the wide pavement. People, who had not been expecting such an event soon came crowding around, straining to see over the heads of others.
At Oberoi mall, the performance was an awaited surprise as Ritika had announced to the exited audience gathered for the Pehli Baarish "pouring" that there would be a surprise for them the next day. When the flash mob began their routine, there was an exuberant response, with people from the crowd joining in and dancing along.
The climax of our celebrations for World Disability Day this year was an Inclusive Entertainment Show titled YEH HAI DUNIA MERI JAAN. Ably supported by Hindustan Petroleum Private Limited and involving disabled and non-disabled students of 7 participating schools from Kolkata, the event took place on the 17th of December at Rabindra Sadan at 7:00 pm.
 To know more about this event, click here.
To view photographs of this event, click here.
We at Trinayani believe in the importance of the media in impressing upon the people the importance of an inclusive mindset. We are therefore thankful that several newspapers covered the event.
The play, written by Varsha Sheth and directed by Ashok Singh touched minds and hearts, even while the members of the audience tapped their feet to racy numbers or got swept up in the world of the seven protagonists.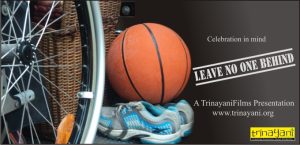 Our 30 seconds awareness film, LEAVE NO ONE BEHIND, dubbed in seven different languages,  was aired as a Public Service Announcement on  OOH Media screens across the country.
All in all, this year's World Disability Day celebrations kept us all on the edge of our seats as one fun and exciting endeavour made way for the next.
To know more about our World Disability Day Initiatives over the years, click here.
To view more photographs of our World Disability Day Celebrations, click here.